Diocesan Director Toolkit
Photo by Michael Stulman/CRS
As part of our commitment to our CRS Diocesan Directors, we provide the following teaching tools and resources in our Diocesan Director Toolkit. We frequently add new tools, so please check back regularly.
Selecting the options below will provide you with useful tools and resources to assist with your role as a CRS Diocesan Director.
2022 CATHOLIC SOCIAL MINISTRY GATHERING (CSMG)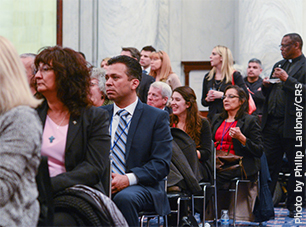 For those of you who will participate in the 2022 Catholic Social Ministry Gathering Virtual Meeting, January 29-February 1, please join CRS during our sponsor event on January 29th at 3:00 PM, when Bill O'Keefe, EVP of Mission and Mobilization will share our work around the world and the impact you can make by joining CRS communities of solidarity in the United States. On January 30th, CRS will offer a Community Workshop on Amplifying Voices from the Margins: Starting and Sustaining Relationships with Congress, followed by our policy workshops on Monday, January 31st. We look forward to seeing you at these activities and events planned for CRS partners, diocesan directors, chapter members and all other participants.
DIOCESAN DIRECTOR ORIENTATION
Catholic Relief Services hosts a new Diocesan Director orientation annually in the early summer. During the orientation, CRS Diocesan Directors learn more about CRS' mission, work overseas, programs and resources available to do the work of CRS in their dioceses. This is also an opportunity for the new Diocesan Directors to meet with CRS staff, to learn about building capacity in their respective diocese and discover how Catholics in dioceses are an integral part of CRS.
CRS recognizes that Diocesan Directors have a variety of other diocesan commitments and responsibilities so during the orientation, there is time provided to create a CRS action plan while learning about the different challenges, strategies and successes of other Diocesan Directors. While experienced Diocesan Directors are welcome, the orientation's primary focus is on Diocesan Directors that have been in the position for less than two years.
For more information, please contact your regional CRS Mission and Mobilization Field office, CRS Hispanic Engagement or CRS Church Engagement colleagues for additional information, if you have been appointed by your bishop to serve as a CRS Diocesan Director.
DIOCESAN DIRECTORS' ORIENTATION DOCUMENTS
WHAT EVERY CRS DIOCESAN DIRECTOR NEEDS TO KNOW
Ten Tips on Getting the Most From CRS Speakers
CRS speakers are a great way to build global solidarity among Catholics in the United States. Both educational and inspiring, our speakers will share stories about our beneficiaries and their desire to help create a world with peace and dignity for all. Explore these 10 tips to help you get the most out of your CRS speaker.
Diocesan Global Solidarity Team document
Explore several models for strengthening capacity that were developed during a CRS Southeast regional diocesan directors meeting.
RESPONDING TO AN EMERGENCY
Natural disasters, political crises and humanitarian emergencies often occur when we least expect and without advanced warning. During past emergencies, the U.S. Catholic Church has been most generous in their response to aid those in need. CRS Diocesan Directors are called upon to answer questions from parishes, Bishops, and the media. The following are steps you can take when responding to an emergency.
Look for information to come to you through your e-mail. When a disaster occurs, CRS will provide you with the most up-to-date information about the crisis itself, current CRS activities in the affected area and ways your community can respond.
Call your regional CRS Mission and Mobilization Field office to see if CRS has programs in the area of the emergency and, if so, inform the Bishop and diocesan leaders about CRS' response.
Encourage your Bishop to write letters to all parishes inviting them to pray for victims of the crisis and for those who will risk their lives to assist them.
Coordinate national collections with your bishop.
Work with your Communications and Chancery offices to ensure information on the emergency and CRS' response is getting to parishes.
Work with secular and diocesan papers to ensure CRS' name and address are included in their list of agencies responding to a particular crisis and to develop articles on CRS' response.
Contact CRS for speaking engagements in your community to speak at parish or diocesan functions and/or be a source of information for news media.
Report back to the diocese on monies raised and CRS' response.
We recognize each diocese works differently and encourage you to contact your regional CRS Mission and Mobilization Field office if you have a special need or specific questions relating to emergency response. If your diocese is looking to respond with In-Kind (material) donations, please contact your regional office first. Not all material donations can be accepted by Catholic Relief Services, so, therefore, it is important to contact your regional CRS Mission and Mobilization office before collecting donated items.
TOOLS FOR TEACHING WITHIN YOUR MINISTRY
Inspire your faith community to advocate for a just solution to the conflict in the Holy Land with these learning activities and prayers. They're designed for Catholics of all ages.
Communities of Salt and Light Workshop
View a PowerPoint presentation, or right-click and select "save link as" to download to your computer.
Parish Partnership Manual
A resource for parishes in the United States that are in a sister parish or twinning relationship with a parish in another country.
A Short Guidebook to Capacity Building
Explore capacity building and guiding principles for doing more with less staff in the world of social ministry. It is written specifically for use by diocesan directors of social ministry, but may be helpful for anyone wrestling with this issue in any faith ministry.
Organize a Global Solidarity Ministry Team
This step-by-step guide will help you organize a global solidarity ministry team in your parish.
DIOCESAN CAPACITY BUILDING STRATEGY FOR GLOBAL SOLIDARITY
The CRS Diocesan Capacity Building Initiative for Global Solidarity is an ambitious but focused vision and framework for supporting dioceses in their efforts to reach U.S. Catholics in parishes. It reflects the U.S. Bishops' parish-based social ministry model, "Communities of Salt and Light."
Please contact your CRS regional Field Office if you are a CRS Diocesan Director and have questions about the Diocesan Capacity Building Initiative for Global Solidarity.