V Encuentro: Resources for Forming Missionary Disciples
"The Church which 'goes forth' is a community of missionary disciples who take the first step, who are involved and supportive, who bear fruit and rejoice" (Pope Francis, Evangelii Guadium, no. 24).
The United States Conference of Catholic Bishops have launched the V National Encuentro of Hispanic/Latino Ministry, "Missionary Disciples: Witnesses of God's Love." The goal of the Encuentro process is to identify new ways to address the needs of Hispanic/Latino Catholics in the United States and to encourage them to more fully live as missionary disciples in service to the Church around the world.  
As dioceses participate in and complete the local Encuentro process, this is an opportunity to invite people to reflect on how they can continue to go forth to the peripheries as missionary disciples. One way the V Encuentro is inviting people to do this is by helping to feed people who are poor through participating in CRS Rice Bowl this Lent. (See this list for ways parishes can make this missionary commitment to go to the peripheries outside the season of Lent.)
In addition to CRS Rice Bowl, Catholic Relief Services, the official humanitarian agency of the Catholic Community in the United States, and a sponsor of V Encuentro, also provides other concrete ways parishes can form disciples "who take the first step, who are involved and supportive, who bear fruit and rejoice":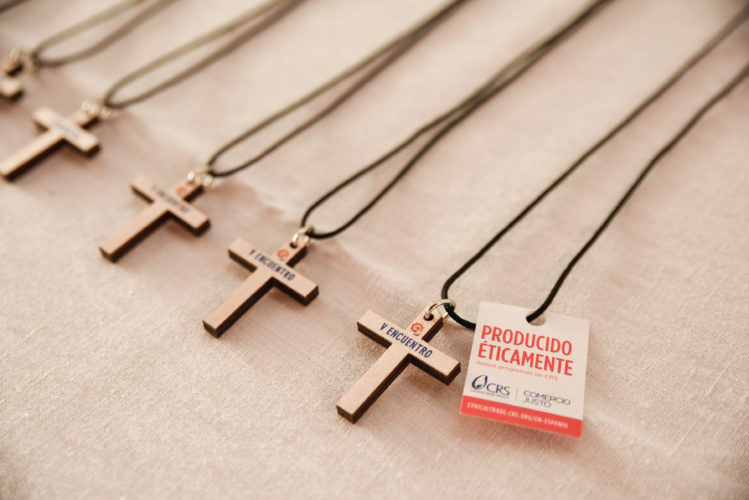 As part of V Encuentro, a half million Hispanic Catholic leaders will be commissioned using these sustainably produced crosses.  Read the story at CRS Ethical Trade.
PRIMEAR. We, who have experienced Christ's love, take a first step and extend his love to others.
CRS FoodFast provides bilingual, intergenerational modules that invite people to join together to pray for and fast in solidarity with those in the world who do not have enough to eat. En Español
INVOLUCRARSE. We get involved in word and deed.
CRS Helping Hands allows parishes to show Christ's love to others by packaging meals for hungry people in Burkina Faso. The national Encuentro is holding a Helping Hands event. Hosting this as service opportunity at your parish can be a way of connecting to this broader effort. En Español
ACOMPAÑAR. We walk with people in their suffering.
CRS' campaigns on global issues provide a concrete way we can support people who suffer. We can send emails to our lawmakers to urge them to enact policies that take into consideration the needs of those in the peripheries whom are not heard. En Español
FRUCTIFICAR. Our work bears fruit.
Global Fellows are priests and deacons in good standing who have seen the fruit of the work of CRS, and can share stories of this with your parish, either at Mass or as a separate talk. Submit a request (in English or Spanish) for a bilingual speaker to visit your parish. 
FESTEJAR. We are a community filled with joy, that rejoices and shares the good news.
Follow "CRS Español" on Facebook to learn about the powerful work CRS does in the name of Catholics in the United States, and celebrate this work by sharing it with others! 
Download this page as a flyer.