THE JOYFUL MYSTERIES OF THE ROSARY
WITH REFLECTIONS ON REFUGEES 
Give to Help Refugees and Other Vulnerable Communities
INTRODUCTION
By meditating on the Joyful Mysteries of the Rosary, we accompany Mary and Joseph as they learn that Mary will bring the Son of God into the world, and we journey with them through Christ's birth and into his childhood. These reflections on each of the Joyful Mysteries include a story of refugees today in the Middle East, where the Holy Family was from. We reflect on the experience of the Holy Family through the stories of these refugees. Along with your personal intentions, please offer the Rosary for the safety of refugee families around the world, and for an end to the conflict and conditions that force people to flee their homes. Click on each of the audio files below to listen to and pray along with each decade of the rosary. 
PRAY:  

FIRST JOYFUL MYSTERY: THE ANNUNCIATION OF OUR LORD 
SCRIPTURE 
The angel Gabriel was sent from God to a town of Galilee called Nazareth, to a virgin betrothed to a man named Joseph, of the house of David, and the virgin's name was Mary. And coming to her, he said, "Hail, favored one! The Lord is with you."
But she was greatly troubled at what was said and pondered what sort of greeting this might be. Then the angel said to her, "Do not be afraid, Mary, for you have found favor with God. Behold, you will conceive in your womb and bear a son, and you shall name him Jesus. He will be great and will be called Son of the Most High, and the Lord God will give him the throne of David his father, and he will rule over the house of Jacob forever, and of his kingdom there will be no end." …
Mary said, "Behold, I am the handmaid of the Lord. May it be done to me according to your word." Then the angel departed from her. (Luke 1:26–33, 38) 
FRUIT OF THE SPIRIT: Humility
REFLECTION 
We can only imagine how overwhelmed and scared Mary must have been when she learned she would welcome a 
child into a situation she never would have planned. Mary was married and her child was not her spouse's. Her husband, Joseph, was also in a difficult spot. He was asked to humbly support her despite his own uncertainty and the possible scandal. Expectant parents around the world today, especially those forced to flee their homes, deal with similar unknowns.
Before the Syrian civil war began, Hassan Zaroid (shown right) was a business owner in the city of Homs. "I was happy. I had a house. I had a car," he says. "But then I lost everything."
A year into the war, he and his wife, who was pregnant, decided it was too dangerous to stay in Syria. So they fled to Jordan with just the clothes on their backs. They've been there ever since.
Though they did not know what their future would bring, they welcomed the birth of their child lovingly. "Through my prayers to God I feel optimistic that tomorrow will be a better day," Hassan says.
PRAY: Mary and Joseph, we ask for your intercession for all expectant mothers and fathers everywhere, and especially mothers who will give birth while on the road, in refugee camps or in places far from home.

SECOND JOYFUL MYSTERY: THE VISITATION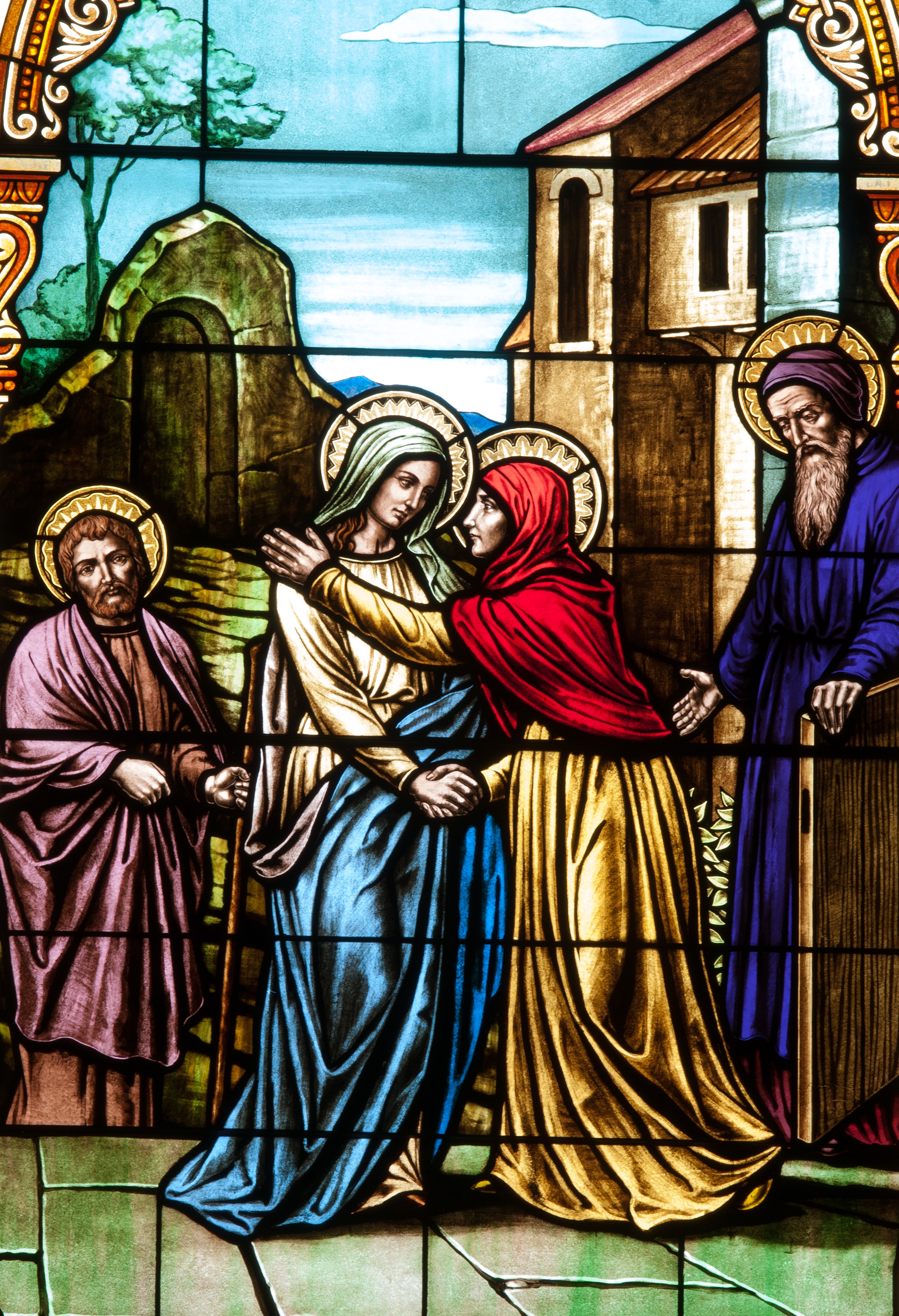 SCRIPTURE 
During those days Mary set out and traveled to the hill country in haste to a town of Judah, where she entered the house of Zechariah and greeted Elizabeth. When Elizabeth heard Mary's greeting, the infant leaped in her womb, and Elizabeth, filled with the Holy Spirit, cried out in a loud voice and said,
"Most blessed are you among women, and blessed is the fruit of your womb. And how does this happen to me, that the mother of my Lord should come to me? For at the moment the sound of your greeting reached my ears, the infant in my womb leaped for joy. Blessed are you who believed that what was spoken to you by the Lord would be fulfilled." (Luke 1:39-45) 
FRUIT OF THE SPIRIT: Love of neighbor
REFLECTION 
Mary went to visit her cousin Elizabeth after learning Elizabeth, thought to be past childbearing age, was pregnant. Even though Mary was pregnant herself, she made the trip to spend time with her cousin and share Elizabeth's joy. It can be difficult for us to voluntarily go outside of ourselves and be present to the needs of our neighbors, especially given all we carry in our own lives. But Mary models this for us.
Malak, a young Syrian woman who fled her home in Aleppo several years ago (shown right), is a modern-day example of someone who is present to and sharing joy with her neighbors, despite all she holds in her own heart. She has been working as a teacher since she fled to Turkey. 
Malak teaches Syrian children who, like her, have lost their homes and are living as refugees. Many are traumatized by the violence they've witnessed. "At first the children would sit by themselves, alone, in a corner," Malak says. "Now, they are no longer screaming or shouting [in fear]." 
Like Mary, despite all she carried herself, Malak brings love to others by being present to their needs.  
PRAY: We pray that even when our hearts are filled with our own joys and hardships, we will remember to reach out to and love our neighbors.

Give to Help Refugees and Other Vulnerable Communities
THIRD JOYFUL MYSTERY: THE NATIVITY OF JESUS 
SCRIPTURE 
While they were there, the time came for her to have her child, and she gave birth to her firstborn son. She wrapped him in swaddling clothes and laid him in a manger, because there was no room for them in the inn. Now there were shepherds in that region living in the fields and keeping the night watch over their flock. The angel of the Lord appeared to them and the glory of the Lord shone around them, and they were struck with great fear. The angel said to them, "Do not be afraid; for behold, I proclaim to you good news of great joy that will be for all the people. For today in the city of David a savior has been born for you who is Messiah and Lord. And this will be a sign for you: you will find an infant wrapped in swaddling clothes and lying in a manger." (Luke 2: 6-12)   
FRUIT OF THE SPIRIT: Poverty of Spirit
REFLECTION
Mary gave birth to Jesus not only without modern-day comforts, but without even the limited comforts of her own day. She gave birth outside in a barn. She laid her newborn in straw. Any new parents in their shoes would have been worried about sanitation and keeping their baby warm—not to mention their own need for a place to rest. They had their baby in a manger because, like many refugees in the Middle East today, they were on the road and had to make do with what they could find.
Ashaa (shown right with 2 of her children) knows what this is like. She lives in a small apartment in Jordan with her husband, who is sick, and their 5 children. The family fled their native Syria years ago. They now rely mostly on support from others to survive. 
"I wash our clothes with my bare hands because we don't have a washing machine," Ashaa laments, remembering her previous life. 
Even though she must raise her family in poor conditions and away from home, Ashaa says they are still better off away from the danger they faced in Syria. "I know that this area is safe, so I thank God for everything and that we're here, at least," she says.
PRAY: We ask the intercession of the Holy Family as we pray especially for all refugees who are raising their families on the road without basic needs and the comforts they once had. 

FOURTH JOYFUL MYSTERY: THE PRESENTATION IN THE TEMPLE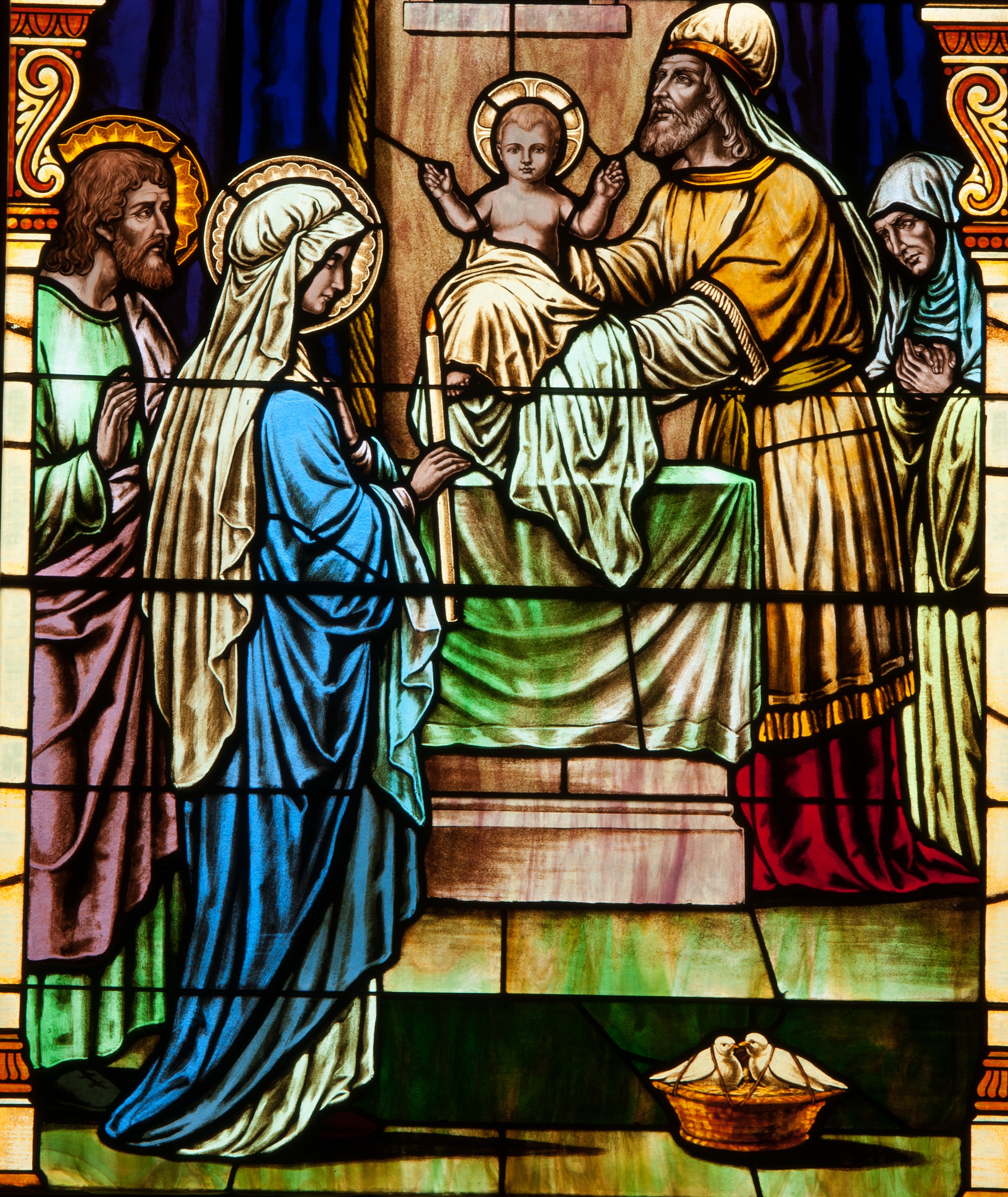 SCRIPTURE 
Now there was a man in Jerusalem whose name was Simeon. This man was righteous and devout, awaiting the consolation of Israel, and the Holy Spirit was upon him. It had been revealed to him by the Holy Spirit that he should not see death before he had seen the Messiah of the Lord. He came in the Spirit into the temple; and when the parents brought in the child Jesus to perform the custom of the law in regard to him, he took him into his arms and blessed God, saying: "Now, Master, you may let your servant go in peace, according to your word, for my eyes have seen your salvation, which you prepared in sight of all the peoples, a light for revelation to the Gentiles, and glory for your people Israel." (Luke 2:25-32)  
FRUIT OF THE SPIRIT:
Purity of Mind and Body
REFLECTION 

When Simeon saw the child Jesus, he immediately recognized he was God. Sometimes we hope for this in our own faith lives: that Christ will appear before us and we will have no doubt it's him. Though we may not see Jesus in this life in the way that Simeon did, his story reminds us that children can lead us to Christ. As Jesus says later in his public ministry, "Whoever receives one child such as this in my name receives me." (Matthew 18:5)
We think especially of the little ones who are from the same part of the world as Jesus, and who, like the child Jesus, have had to flee their homes. This includes children like Sakeena Mteir (shown right). With her thick black hair pulled into a long ponytail, a bright pink T-shirt and multicolored nail polish, Sakeena looks like your typical 11-year-old. And in some ways, she is. But for more than 4 years, Sakeena, her parents and 8 brothers and sisters have lived in a makeshift shelter made of a few wood beams and an assortment of tarps in Lebanon's remote Bekaa Valley. With no end in sight to the conflict in their homeland, Syria, they continue to live in limbo.
Sakeena's mother, Turfa, says her daughter is bright and always looking out for her siblings. She hopes that her daughter will someday become a teacher. Sakeena and the many other refugee children who bring hope to those around them point us to Christ.

PRAY: We pray that we will see Christ in those around us, especially in the gift of children. 

FIFTH JOYFUL MYSTERY: THE FINDING IN THE TEMPLE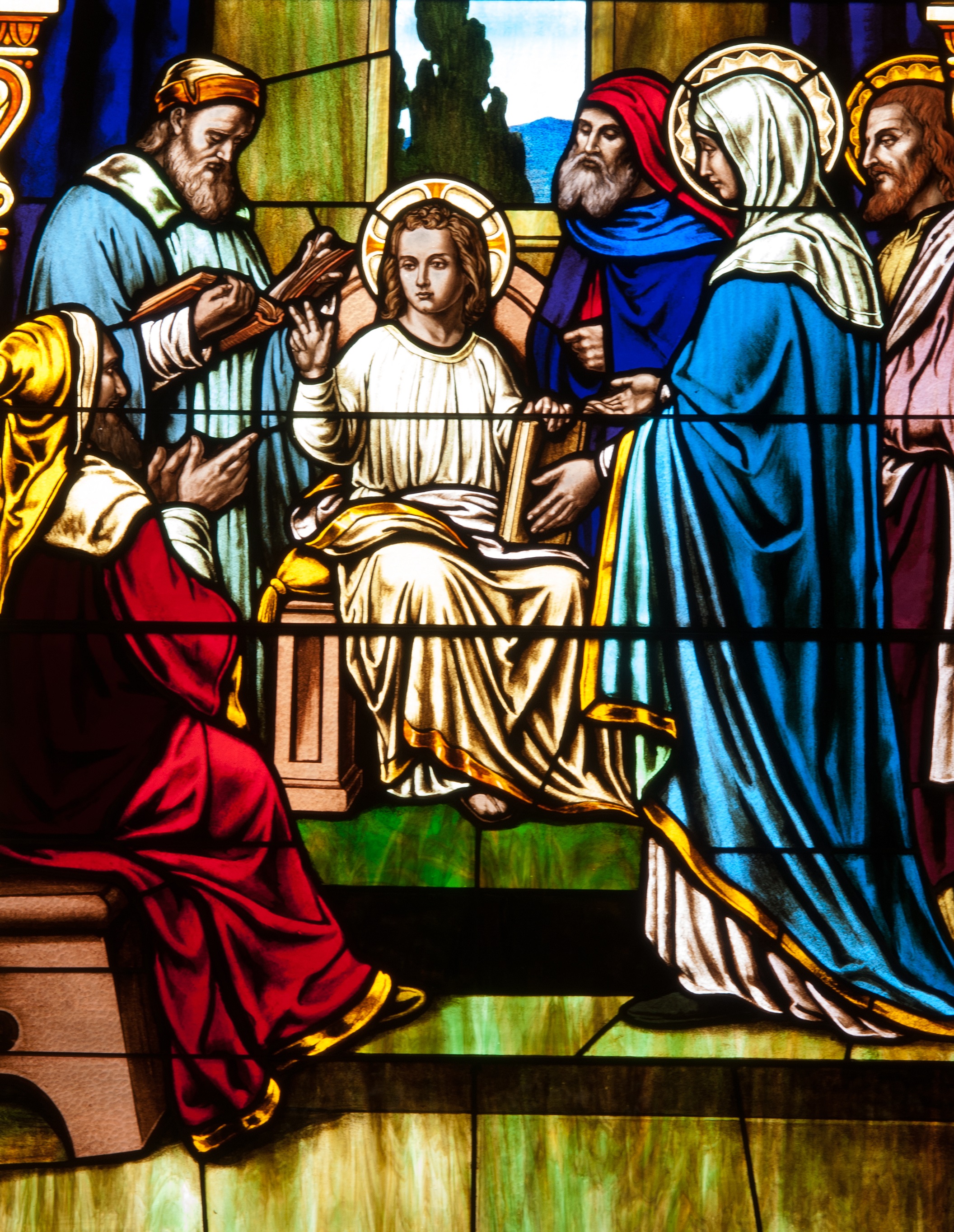 SCRIPTURE 
Each year his parents went to Jerusalem for the feast of Passover, and when he was 12 years old, they went up according to festival custom. After they had completed its days, as they were returning, the boy Jesus remained behind in Jerusalem, but his parents did not know it. Thinking that he was in the caravan, they journeyed for a day and looked for him among their relatives and acquaintances, but not finding him, they returned to Jerusalem to look for him. After 3 days they found him in the temple, sitting in the midst of the teachers, listening to them and asking them questions, and all who heard him were astounded at his understanding and his answers. When his parents saw him, they were astonished, and his mother said to him, "Son, why have you done this to us? Your father and I have been looking for you with great anxiety." And he said to them, "Why were you looking for me? Did you not know that I must be in my Father's house?"  But they did not understand what he said to them. (Luke 2:41-50) 
FRUIT OF THE SPIRIT: Obedience
REFLECTION 

The Basheer family fled Syria just a few months ago when a bomb destroyed their home. They had been hearing explosions and gunfire nearly every day. Khaled Basheer, the father, says, "We were also very frightened of an attack by [ISIS]. We heard such horrible stories how cruelly they kill innocent people and rape women and young girls."
Khaled, his wife and 3 children (2 are shown in the photo at right) survived. "Can you really say we were lucky?" he asks.  
They lived in a tent outside Aleppo after their home was bombed, but unlike many other refugee families, every member survived and they remain together. But around the world, refugee families are separated. They must know all too well the feelings Mary and Joseph experienced when they couldn't find their son for 3 days.
PRAY: We pray for all refugee children, especially those separated from their parents or who have died on their journeys to safety. 

DOWNLOAD THIS REFLECTION AS A SLIDESHOW PRESENTATION                      
Photo credits: 
Stained glass Scripture images: Nancy Bauer / Shutterstock.com
Photos of refugees: Kira Horvath for CRS, Sevket Kizidag for CRS and Nikki Gamer/CRS