Journeys of Hope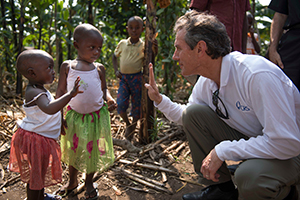 As a supporter of Catholic Relief Services, you know that your compassion transforms lives. A CRS Journeys of Hope trip will provide a rare opportunity to see how your solidarity with some of the poorest and most vulnerable people around the world is helping them overcome adversity.
Immersed in a culture, you will see up close how people are involved in activities that help them grow food, access clean water, raise healthy children and overcome disaster. You will be at the frontlines, watching CRS in action and witnessing the reach of the Catholic Church. You will interact with CRS field staff and partners, understand the challenges we face, and observe the measures we've taken to ensure we have a lasting effect on people's lives.
Most important, you will meet those touched by your compassion and engage with communities that are often invisible and unheard.

"What a blessing to see firsthand the overwhelmingly positive effects that CRS has had on the communities they assist, especially as seen through the smiles of these Yazidi children from Sinjar, Iraq. For many of them, it is the first time in years they have stability, security and joy in their lives because of CRS' projects."
–Sarita Hanley
 
Read what others are saying about the experience:
Local Catholics join archbishop for CRS trip to Laos, Cambodia
Milwaukee Legate Art Wigchers — dubbed 'Father of the Poor' — has begun a tidal wave of cultural change in Ethiopia
Bishop Rhoades visits Middle East with CRS
Photo by Patrick Meinhardt for CRS.
"I was able to witness firsthand the outstanding work of CRS. What I saw being accomplished and experienced on the part of those receiving assistance from CRS will forever be a reason for me to strive to willingly share through CRS my blessings with my brothers and sisters who live far away from me, but live very close to the mind and heart of Jesus Christ. I am grateful to CRS for providing for the needs of so many people so very well, and allowing me to witness the good work they accomplish and the hope they give."


–Bishop Shelton J. Fabre, Bishop of the Diocese of Houma-Thibodaux in Louisiana and member of the CRS Board of Directors
Frequently Asked Questions:
HOW DO I FIND INFORMATION ON SAFETY AND HEALTH CONDITIONS ABROAD?
The countries available to visit are preselected with safety first in mind. Catholic Relief Services has a very robust security team in the United States that monitors conditions in the countries we serve. During your pre-trip communications, we will share vaccine requirements and any health concerns you need to be aware of in the country you are visiting. If at any point in time, our security team in the United States or overseas feels conditions are not safe, we will cancel or postpone the trip. In the event something should happen, both CRS, the U.S. Embassy and local authorities will provide layers of safety and security. Your safety is our top priority.
CAN YOU ACCOMMODATE TRAVELERS WITH SPECIAL DIETS?
We can usually accommodate special dietary requirements, but be sure to note this on your traveler information form so we can plan for your meals. In most cases, the food you eat will be familiar to you. A cultural experience you may treasure—and is a fun part of the trip— is sampling local cuisine. CRS chooses where you eat to ensure quality and sanitary conditions are met. Water will also be provided by our staff in locations where drinking water isn't safe to consume.
CAN YOU TELL ME ABOUT THE HOTEL ACCOMODATIONS THAT I CAN EXPECT?
CRS books comfortable, well-located accommodations with private bathroom facilities. We aim for 3- or 4-star hotels according to Western standards. Any exceptions to this rule will be communicated to you individually.
WILL MY HEALTH INSURANCE COVER ME WHILE ABROAD?
IF NOT, HOW DO I GET HEALTH INSURANCE?
Don't assume that your insurance will cover you while abroad. We recommend that you check with your policy provider to see what they will and won't cover. In addition, CRS will purchase a policy for medical evacuation insurance on your behalf from SOS International. In case of emergency, this policy will guarantee that you will be evacuated for medical reasons to obtain the care that you need. The average price for these policies range from $60–$180 per person and the cost will be added to your post-trip invoice.
WILL WE BE TRAVELING IN THE CAR FOR LONG PERIODS OF TIME?
One of the best parts of traveling with CRS is the rare opportunity to see diverse parts of a country both within the capital city and in more rural areas. There are some itineraries that include daily drives of 3 to 4 hours, but stops will be included where available to allow for breaks. These drives are a true CRS experience and offer a chance to bond with the staff you are traveling with as well as the CRS guests in your group. Not all trips include these long drives; it depends upon the country you are visiting.
WHAT IS A TYPICAL DAY LIKE WHILE TRAVELING WITH CRS?
Every trip itinerary is unique to the country and program you are visiting. Our staff will show you as much CRS programming as we can but will also include the chance to meet with local government officials and Church partners. You will also be given the opportunity to have Mass where you are visiting. Often, the CRS programming is in rural areas and may require overnight stays in more remote settings, but will still meet our basic accommodation standards. While visiting CRS programs, you will have the fantastic opportunity to meet with CRS staff, as well as beneficiaries and CRS partners. This is a highlight for many travelers and a unique experience when traveling with CRS.
WHAT CLOTHING SHOULD I PACK FOR MY TRIP?
We always recommend packing as light as possible; however, the specific requirements for your trip will vary widely depending on where and when you are traveling. The comprehensive briefing book that you will receive prior to departure will include a suggested packing list. The packing list is trip specific and based upon the experience of our country staff. In addition, this topic will be discussed on a group call prior to the trip so you can speak directly with our staff overseas regarding what you'll need.
ARE YOU INCLUSIVE OF TRAVELERS WITH DISABILITIES OR PHYSICAL AILMENTS?
Yes, absolutely anyone is welcome to travel with CRS. Often, meeting with the people we serve will take place in rural areas where walking is necessary, or there can be long days that are physically taxing. We ask that you please include on your traveler information form any physical conditions that may affect your ability to get around. This will help our overseas staff so we are able to address any conditions that may require special attention.
DO WE ALL MEET AT THE SAME AIRPORT TO TRAVEL TO OUR CRS DESTINATION?
Our main goal is to make sure you have the best experience while traveling with CRS. Therefore, we do not want to add unnecessary stops at airports that may not logistically make sense for you. There are often only a select number of flights arriving in a country, so you may be on the same flight as other travelers when connecting through an international city. We do strive to arrange arrivals in groups so that CRS staff responsible for transportation can consolidate airport runs. The flights you are on are ultimately your choice, and we will accommodate your schedule as needed.
HOW IS PAYMENT TO CRS FOR THE TRIP HANDLED?
CRS will provide you an estimate for your trip expenses when the trip is scheduled. Three months out from the trip a confirmed cost for your in country expenses (including meals, hotels, and transportation) will be shared with you. This amount will be exclusive of your international airfare since that amount can vary depending on time and location. CRS will send you the invoice for that pre-determined cost within 30 days of your return to the United States.
Due to limited availability, CRS Journey of Hope trips are by invitation only. For more information on specific dates and locations, please contact your CRS representative.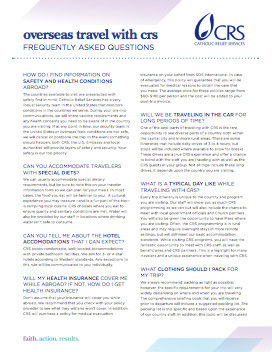 DOWNLOAD FAQ AS PDF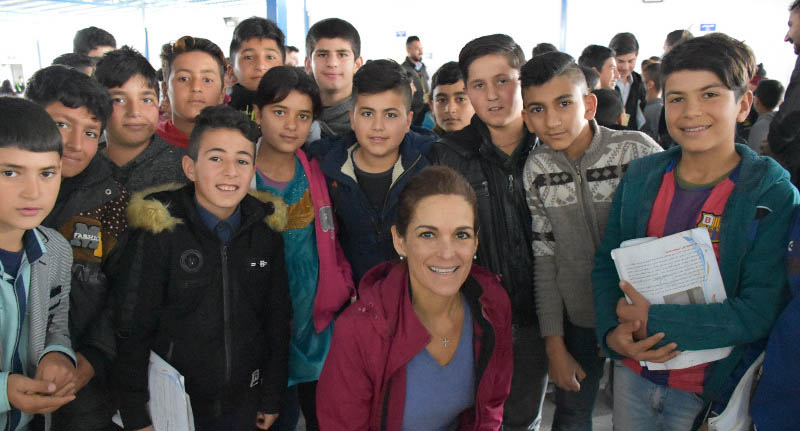 Photo by Daniah Durand/CRS