Saving Lives Through Cash Transfer Programs
Photo by Michael Stulman/CRS
Executive Summary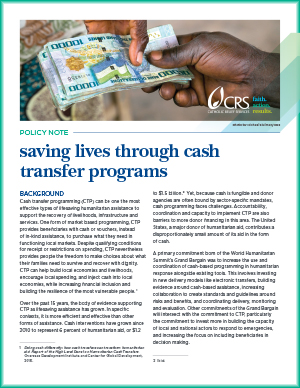 Click to view PDF.
Cash transfer programming (CTP) can be one the most effective types of lifesaving humanitarian assistance to support the recovery of livelihoods, infrastructure and services. One form of market based programming, CTP provides beneficiaries with cash or vouchers, instead of in-kind assistance, to purchase what they need in functioning local markets. While over the past 15 years, the body of evidence supporting CTP as lifesaving assistance has grown, donors and implementers still face challenges in funding and carrying out CTP.
A primary commitment born of the World Humanitarian Summit's Grand Bargain was to increase the use and coordination of cash-based programming in humanitarian response alongside existing tools. Cash components were included in USAID's main development program, the Development Food Assistance Program, in FY16.
This policy note includes recommendations to the U.S. government that will improve cash-based assistance and help meet its Grand Bargain commitments. These recommendations are based on CRS' innovative approach and our leadership in cash programming for humanitarian assistance.
Policy recommendations
CRS offers the following policy recommendations to the U.S. government and, in particular, to USAID and the State Department's Bureau on Populations, Refugees and Migrants (PRM):
 Channel funding for cash transfer programming to INGOs and agencies that are closer to the beneficiaries, so they can implement CTPs more effectively and efficiently. We recommend that funding continue to flow to the most effective and efficient implementers. INGOs are increasingly able to scale their CTPs through collaborative efforts like the Collaborative Cash Delivery (CCD) platform, share technical assistance or common databases, or simply ensure that all actors are using high standards for cash delivery. INGOs can scale with quality—meeting Sphere Standards, the Minimum Economic Recovery Standards and other guidelines promoted by the Cash Learning Partnership (CaLP). Further, INGOs are often more nimble and flexible in adapting to changing contexts and security situations through our strong relationships with local communities, governments, civil society and the private sector.
 
Support cash-preparedness of INGOs through U.S. funding, technical support and shared learning. As part of its commitments to increasing the use of cash, made at the World Humanitarian Summit, we urge the U.S. government, particularly through USAID, to continue to prioritize research, learning and sharing about market analysis, beneficiary needs and the opportunities created by digital payment systems. Further, the U.S. government should clarify acceptable levels of risk for scaling up cash assistance in specific contexts so agencies can manage their own risk better. Finally, to ensure our programs follow the humanitarian principle to do no harm, we urge USAID to continue working with implementing agencies to provide training for market monitoring to ensure CTPs do not negatively impact markets.
 
Emphasize the role of local institutions to deliver CTP by building their readiness, and by integrating them into government planning and budgeting as a part of the social safety net. Building local capacity to provide cash-based assistance—by working through local government planning and budgeting processes and by preparing financial service providers and vendors to engage in CTPs—will be essential to meeting this WHS commitment. The U.S. government should also support INGOs to connect bilateral development institutions, such as the World Bank, with local governments to build local CTP capacity in safety net programs
 .
Find political space for multipurpose/multisector cash. We encourage the U.S. government to seek reforms in both funding and programming to make unrestricted/unconditional multisector CTP more feasible. This includes analyzing whether sector-specific, single-mandate agencies in the U.S. government and the U.N. are fit for purpose, and how to best meet the integrated, holistic needs of beneficiaries.
 
Create transparent and evidence-based criteria to define "appropriateness" in cash-based assistance. We encourage the U.S. government to systemize learning to support decision making around when CTP is "appropriate" in humanitarian and development assistance projects. This will require funding and coordination for research.
 
Support more effective coordination among all actors engaged in CTP, including joint assessments, data sharing, and coordination of roles and responsibilities in humanitarian to increase CTP efficiency. USAID should support the creation of "grab and go" platforms and protocols that can be used in emergency situations, to help make CTP more accessible. Similarly, CTP should also be included in all preparedness programming. Also, because CTP depends on markets, the U.S. government has a role to play in coordinating databases and other sources of information about changing market conditions. Housing market data in an agency like FEWSNET (Famine Early Warning Systems Network) would align with its existing mandate, and collaboration at a U.S.-INGO level with WFP's Vulnerability Assessment Mapping (VAM) platform would also align data needs.