Domestic Summer Internship Program
Lauren Carroll
The Domestic Summer Internship program is CRS' only paid internship program.  It takes place from June to August for a period of 10 to 12 weeks, or longer in some cases. Interns work in departments across the organization, and are responsible for a variety of tasks based on their skill set and the needs of their departments. Interns receive regular guidance, direction and support from their supervisor, to ensure a successful learning experience. 
Components 
Orientation: The Domestic Summer Internship program begins with orientation and onboarding. This is an opportunity to get to know fellow interns and learn about the CRS vision, mission and culture. 
Biweekly activities: Interns participate in collaborative biweekly activities such as lunches with other interns, brown-bag sessions, potlucks and informational meeting opportunities with CRS senior staff. A collaborative project culminates the internship experience.
Informational Interviews: Interns are encouraged to schedule informational interviews with CRS staff in departments across the agency to explore potential fields of interest. Our intern coordinator can help interns set up these interviews.
Application 
Internship opportunities are posted with other CRS job openings on the CRS.org careers page. 
Type "internship" in the search box.
Internships also can be accessed on the careers page. Click "APPLY" on the main internships page. 
Interested candidates are encouraged to apply only for internships that most closely matches their field of study and skill set. 
Successful candidates receive an email to complete a video interview. 
The application and video interviews are reviewed and eligible candidates are contacted for a phone or Skype interview with a hiring manager. 
All applicants must be authorized to work in the United States at the time of application.
The summer internship experience 
Interns work in U.S. regional offices and in various departments in our U.S. Operations, Overseas Operations, Human Resources and Finance divisions. They are responsible for a variety of tasks based on their skill sets and departments' needs. Interns receive regular guidance direction, and support from their supervisors to ensure a successful work and learning experience. Interns are invited to participate in meetings, lunches with other interns, CRS brown-bag sessions, potlucks and a collaborative intern project to culminate their experience.
Important dates
June  through August, 2017: Approximate dates of program
March 1— April 2017 (approximate): Most summer internship positions are posted on the CRS careers website. 
May 1, 2017: : Application deadline 
In some cases applications may be accepted until positions are filled.  
May 15, 2017: CRS begins notifying successful applicants.
Week of June 1, 2017: Internships scheduled to start.
CRS summer internships are competitive. We recommend that you apply as early as possible. 
Location
CRS summer internships are based in CRS headquarters in Baltimore, the CRS Washington, DC office, and in U.S. regional offices in California, Pennsylvania, Texas and Georgia. 
CRS Regional Offices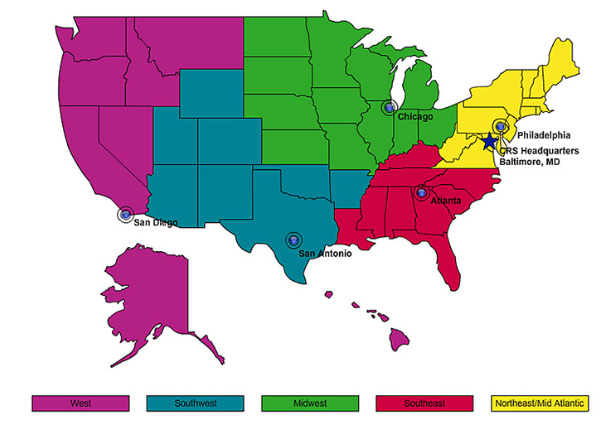 Housing and transportation
Unfortunately, CRS does not have the resources to provide or assist with housing or transportation for U.S.-based interns. Interns are expected to cover the following expenses: relocation, transportation, housing and food.