South Sudanese Refugees Transform Camp into Community
"It is an opportunity and an honor for me to serve my community. I feel blessed. This work has changed my life."
—Jimmy Luate
Home is More Than a Building
In 2013, only a few years after the much-celebrated birth of South Sudan as an independent nation, the country erupted in civil war. By November 2016, the war had reached Jimmy Luate's hometown of Yei. He, with his wife Jackie and their 6-year-old daughter Stella, had no choice but to flee.
"On the day we left, I just picked up my family, we jammed in a bus and moved to the border," Jimmy recalls. "I could not pick up anything from my home as it would've raised suspicion."
He had to leave his brother and grandfather back home. Leaving was hard but staying was impossible. Jimmy had already lost many relatives and friends in the brutal violence. After an exhausting journey, Jimmy and his family arrived in the Bidi Bidi settlement in northern Uganda.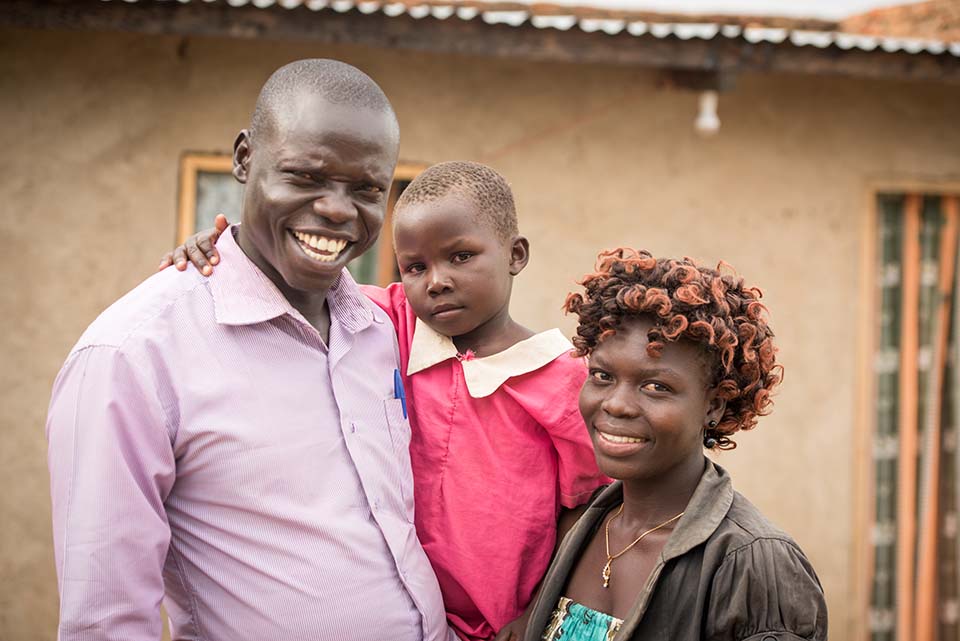 Jimmy Luate, with his wife Jackie and their 6-year-old daughter Stella, fled from civil war in their native South Sudan to the Bidi Bidi Refugee Settlement in Northern Uganda in November 2016.
Photo by Phil Laubner/CRS
"When we arrived in the settlement, life wasn't easy," he says. "It was scary. The life of a refugee is a difficult life. We ran from bullets but now we may die from disease."
From a Camp to a Community
But soon Jimmy watched the camp grow into a community where he and his family could be happy.
"When we first came, we only had makeshift shelters, and every time it rained, the whole place filled with water. You couldn't sleep," he explained. "And life was the worst for the most vulnerable."
"When CRS came, they went to those people first and brought so much joy. Now we have places where we can keep our food dry, a place to sleep and a place for our children to be safe. It is marvelous and I see a lot of appreciation," Jimmy says.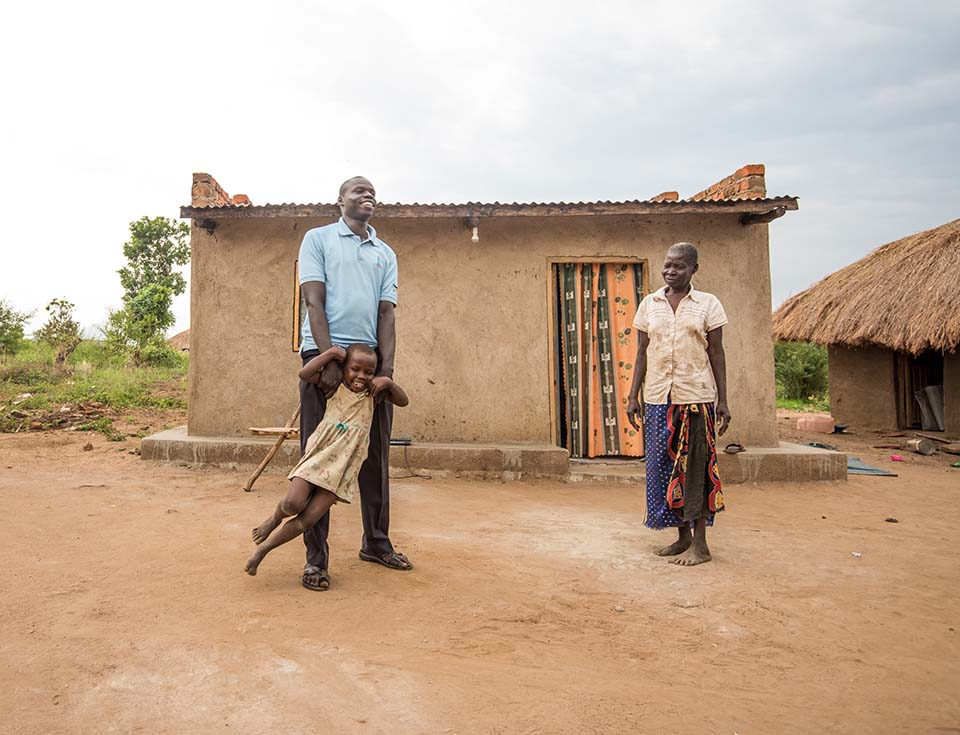 Jimmy and Stella play in front of their home in Bidi Bidi, accompanied by Jimmy's aunt, Jerisa Asah.
Photo by Phil Laubner/CRS
Our homebuilding programs do more than build homes. We take a broad perspective to build strong and safe communities. We incorporate key activities like restoring livelihoods, improving health and emotional well-being, ensuring water and sanitation, supporting legal and financial services, and bolstering resilience against future disasters. We also address issues related to land tenure, urban planning, infrastructure, reconstruction and transportation.
Even after a disaster has passed, CRS and our partners help families repair their damaged homes and restart their interrupted livelihoods. We do not forget people in need.
CRS programming taught the importance of cleanliness and personal hygiene. "Now we have latrines and wash stations for after we use the bathroom," Jimmy says. "Before you go to fetch water, you make sure you are clean so there is no disease spread of something like cholera."
What Was Missing, We Are Now Receiving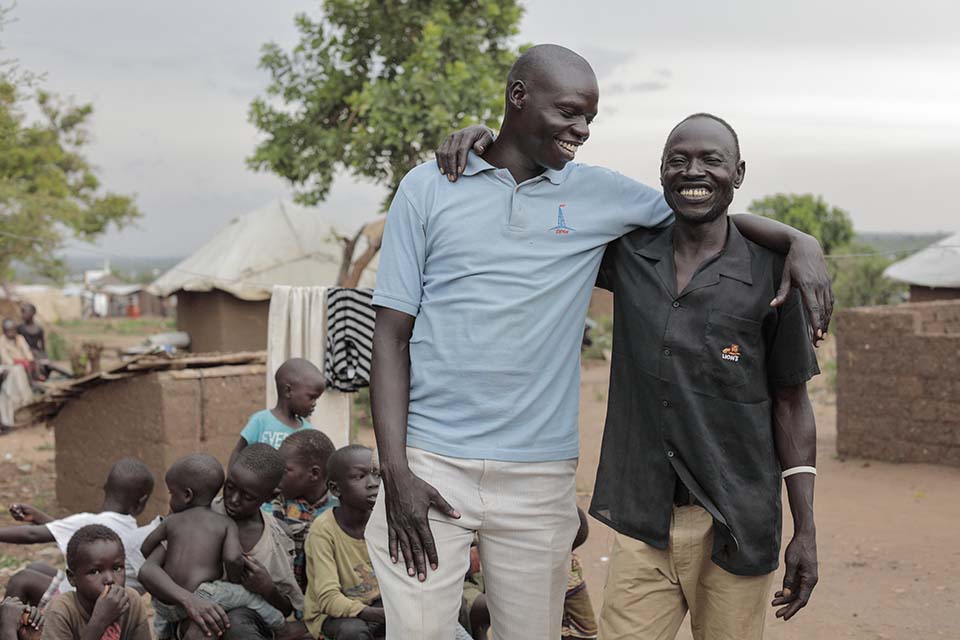 Jimmy Luate, a South Sudanese community opinion leader in the Bidi Bidi Refugee Settlement, stands with his arm around Swali Alidriga, a host community representative who has become his friend.
Oscar Leiva/Silverlight for CRS
CRS believes that time spent as a refugee does not have to be lost time. We work to create self-sufficiency and build livelihoods skills while ensuring basic needs are met.
"Together, with the government of Uganda, CRS has seen to our needs. Now these people, their lives will transform, and one day they will be very good citizens who will transform South Sudan," Jimmy says. "Who knows? Maybe the president of South Sudan will come from the youths here. They will be the candles of change."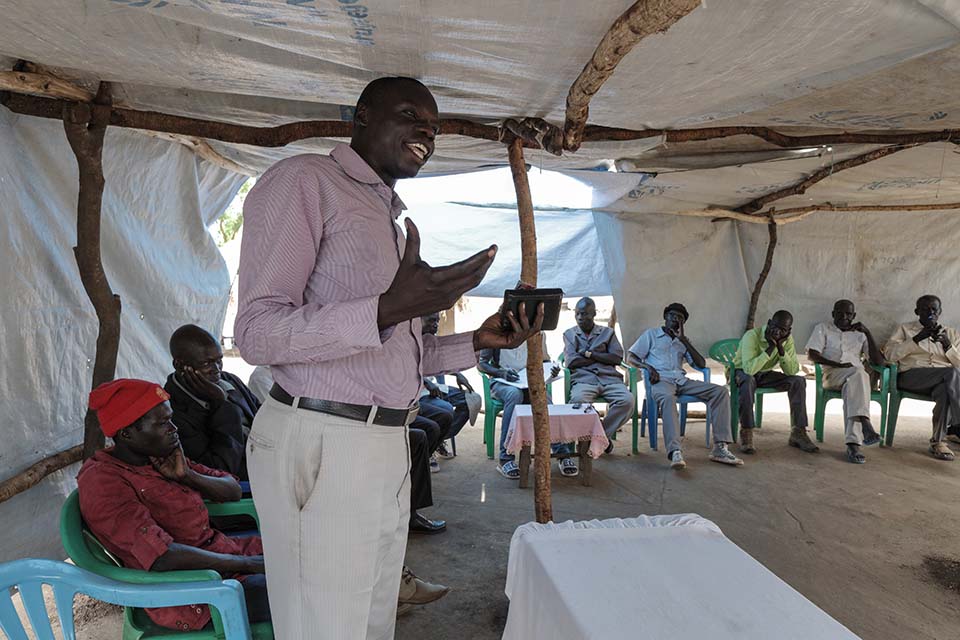 Jimmy is an assistant pastor in Uganda. He studied theology and was in the process of earning his master's degree to become a full Christian pastor when he was forced to flee South Sudan.
Photo by Oscar Leiva/Silverlight for CRS
Lessons to Take Home
South Sudan is home to 64 tribes, and the civil war that has broken out there has fallen largely along ethnic lines. A peaceful future can only be built on values of human dignity, brotherhood and community free from such potentially violent divisions. Forced out of his homeland and united by communal trauma, Jimmy began to see past the tribalism he had known. "In the camp, we came to live among people we didn't know, who didn't know us," he says. "They are of different tribes, but we started building ourselves together. And now I see them as brothers and sisters. I believe that these are lessons we'll take back home and they will cement our country, where we will live beyond such divisions."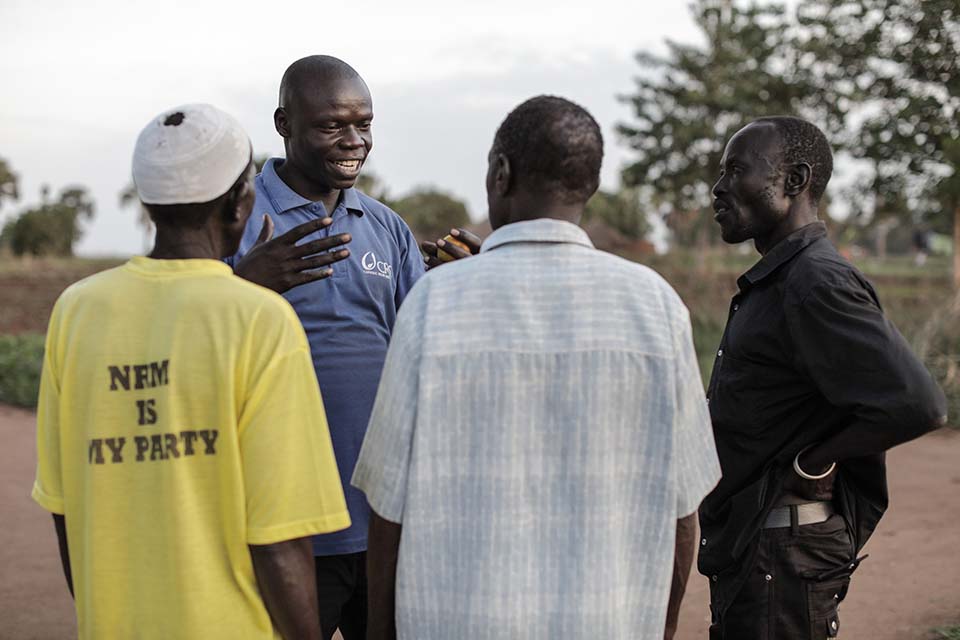 "The lesson in the settlement is that it's not about tribes. We are one people and my hope is that we take this understanding back with us to South Sudan," says Jimmy Luate.
Photo by Oscar Leiva/Silverlight for CRS
Jimmy was elected to a position of leadership within the settlement, to communicate to CRS the needs of the community. "With CRS, the work began to go very good. I became a hygiene promoter and a supervisor," he says.
Jimmy was able to save money and build a house for his family. In a position of leadership in his community, he has a voice in ensuring the needs of his fellow refugees are heard and met.