"With great joy we anticipate the first apostolic visit of his Holiness, Pope Benedict XVI, to the United States of America, April 15 to 20, 2008. We pledge our prayers in preparation for this historic journey, that hearts may be opened to God's love and fidelity by our Holy Father's pilgrimage."

— Francis Cardinal George
President, United States Conference of Catholic Bishops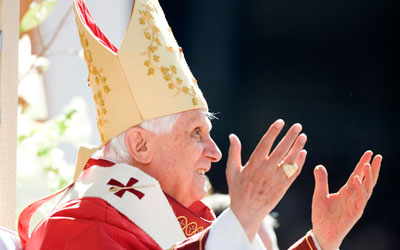 As a Catholic humanitarian agency that treasures Church tradition, CRS greatly values the encouraging and challenging message of Pope Benedict XVI, particularly in his papal encyclicals, Deus Caritas Est (God is Love) and Spe Salvi (Saved by Hope).
CRS seeks to embody the virtues of love and hope in our work around the world on behalf of the poorest of the poor. Pope Benedict reminds us that we are called by the Gospel to reach out to our brothers and sisters in need — those who live in our communities and our nation, as well as those around the world. Our faith teaches us that we are all part of One Human Family. That same faith makes it clear that if one part of our family suffers, we all suffer. And that if we reach out and try to ease that suffering, we too are transformed.
In Deus Caritas Est, Pope Benedict makes it clear that love of God and love of neighbor, concretely expressed through charitable acts, are inextricably linked.
Only if I serve my neighbor can my eyes be opened to what God does for me and how much he loves me… Love of God and love of neighbor are thus inseparable, they form a single commandment.
Or, as Pope Benedict succinctly puts it in Spe Salvi:
Christ died for all. To live for him means allowing oneself to be drawn into his being for others.