Responding to the Refugee Crisis
Kira Horvath for CRS

"I would like to ask you all to see a ray of hope as well in the eyes and hearts of refugees and of those who have been forcibly displaced ... I admire the courage of those who hope to be able gradually to resume a normal life, waiting for joy and love to return to brighten their existence. We can and must all nourish this hope!"  — Pope Francis            
As the influx of refugees into Europe continues, we remain challenged as people of faith to nourish refugees' hope for the future. The resources below can be used to help involve faith communities take up this charge by praying, learning, acting and giving to support those in need. 
PRAY
---
LEARN
Review a fact sheet with information about how CRS is providing education and care for refugee and internally displaced children in the Middle East. 
Watch videos about what life is like for refugees and how they are being assisted by CRS: 
Read an article from Our Sunday Visitor about the "moral imperative" to help refugees. 
---
ACT
Encourage your members of Congress to support Syrian refugees. 
Post on social media to raise awarness about and show solidarity with Syrian refugees. Sample post with photo: 
Did you know more than half of Syrian refugees in the Middle East children? Here's how the Church is responding and how you can help bit.ly/1PFSljy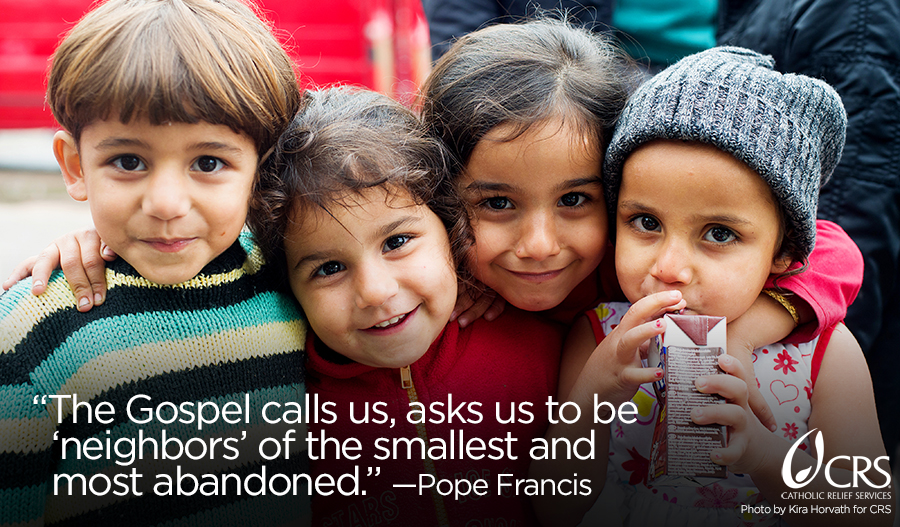 ---
GIVE