About Water and Sanitation
Over the past five years, CRS has assisted more than 2 million people worldwide in gaining access to clean water. We have provided more than a million people in rural areas access to improved sanitation.  We support water, sanitation and hygiene services in more than two dozen countries, focusing on services for the poorest and most remote communities. Much of our assistance is directed to sub-Saharan Africa.
CRS supports WASH programs in coordination with the three CRS strategic priority areas of health, agriculture and emergencies. Our work improves health and well-being, supports emergency preparedness and response efforts, and contributes to the sustainability of water and natural resources.
Our Impact
Despite strong overall progress, close to 750 million people still do not have access to improved drinking water. Almost 43% of those live in sub-Saharan Africa.
Our diverse programming seeks to improve the health, future and environment of the people we serve. 
In 2015, CRS invested $10.7 million in 37 Water & Sanitation projects in 23 countries.
Capacity at a Glance
Experience: 50+ years
Investing: $10.7 million for water programs in fiscal year 2015
Impact/By the Numbers: Provided support to nearly 2.4 million beneficiaries through 37 projects in 23 countries.  
Learn more about how we work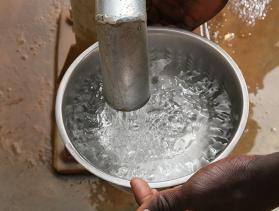 Water for Schools in Burkina Faso
At your school, getting a drink of water meant going down the hallway to the water fountain. You could wash your hands in the school lavatory. But for the...Read more
Donation Form
Live your faith
Join Footsteps in Faith to bring lifesaving and lasting change to children and their families. For just 80 cents a day, you can make a difference!