Our Current Prayer
Photo by Phillip Laubner/CRS

As Catholics, we recognize that prayer is of the utmost importance. In our mission to act with the Church to help the poor overseas, we begin with prayer. As we reach out to our sisters and brothers, we first seek God's grace and guidance, and then we work, animated by the Spirit that connects us.
Each month, we publish a new prayer that we ask the Church to join us in praying. Seeking God's guidance together, we are drawn closer together, and perhaps get a peek beyond the veil at the Kingdom he has promised, as together we work to make that Kingdom a reality for all.
We invite you to join us in praying this prayer with us each month, sharing it with families, parishes, and networks, so our hearts may be one and steadfast as we turn again to the work of the Lord: to feed the hungry, give drink to the thirsty, welcome the stranger, clothe the naked, care for the sick and the captive.
And so we pray ...
---
Our Prayer for January
Prayer for Aleppo
Lord Most High,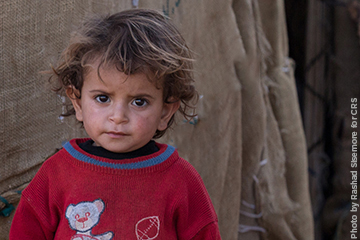 The first martyrs of the Christian world were children.
We look to Aleppo and hear the cries of your children again.
Make us their protectors.
Make us their advocates.
Make us their deliverance.
Download this prayer as a PDF.
---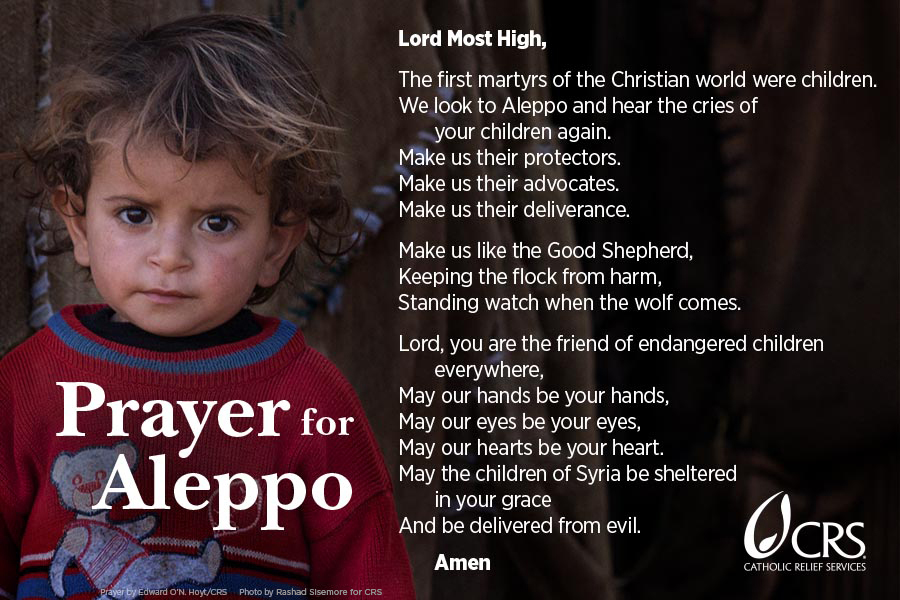 Share this prayer on Facebook.
Tweet this prayer on Twitter.
Pin this prayer on Pinterest.
Make us like the Good Shepherd,
Keeping the flock from harm,
Standing watch when the wolf comes.
Lord, you are the friend of endangered children everywhere,
May our hands be your hands,
May our eyes be your eyes,
May our hearts be your heart.
May the children of Syria be sheltered in your grace
And be delivered from evil.
Amen